Real Estate Agent
Brittany Mellott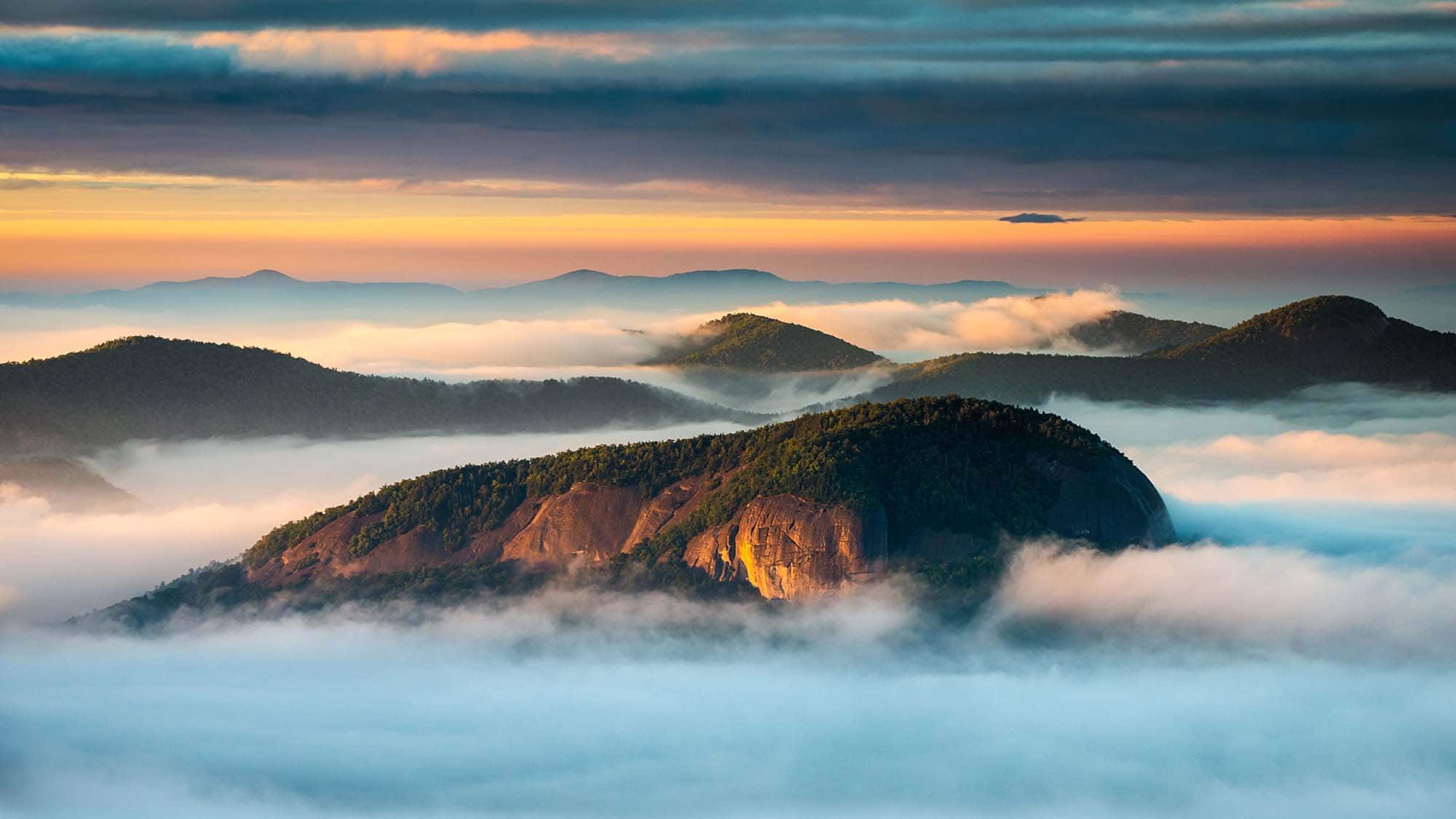 It might seem hard to believe but Brittany was born and raised in a town smaller than Brevard, called Dott, in rural Pennsylvania. Brittany grew up with the Appalachian Trail in her backyard and has carried a love for the mountains all her life. Living in Maryland for 12 years after college, she began visiting western North Carolina and would go home to her stressful, commuting lifestyle to sit in traffic on a daily basis. Her brain would start flashing to these mountains as its reprieve. The decision to call Brevard "home" was an easy one and making these mountains Brittany's home was as comfortable as slipping on an old shoe.

Most days she is keeping watch over the waterfall at Looking Glass Realty, Connestee Falls. But if it is a sunny (or just dry) day, you might find her sneaking off to float down the nearest river, chasing little white balls around the golf course, or simply wandering off into the forest looking for an adventure...

The acceptance into this small community gives Brittany a feeling of belonging and contentment she didn't know her previous 100 mph life was missing. Brittany strives to share that simple ability to be happy with every client. She has loved finding her forever home here and she considers it an honor when someone places their trust in her to help them discover their next adventure. Brittany looks forward to meeting you!
"Brittany Mellott is knowledgeable, helpful, quick to respond to all our questions, and was patient with us throughout the entire process of finding and purchasing our home."
-Meghann VanAuwelaer
"Brittany Mellott with Looking Glass is an INCREDIBLE real estate agent, and more importantly — an incredible human!!! Through her diligent work (literally, night and day) and attention to detail, she shows how much she truly cares about her clients' happiness and success. Brittany answered ALL our questions (and trust me, there were a LOT!) as first time home buyers. She always helped us to feel heard and seen in our wants/hopes. We were so fortunate to find Brittany, and we couldn't recommend her enough to anyone in this community!"
-Tara Tecce
"Brittany was absolutely wonderful to work with. As a first time homebuyer, I was quite intimidated, but Brittany quickly gave me the confidence I needed to follow through. She is so nice and personable. There is no such thing as asking her a dumb question, and she was very responsive and informative throughout the entire process. When we finally made it to closing, she was just as happy and excited to give me the keys to my house as I was to receive them. She even helped me remove an old carpet in the living room and a handicap ramp leading to the front door after we closed. She is an absolute delight to work with, and I will most definitely recommend her to anyone that needs help buying or selling a home. If/when I need to purchase another home, or sell mine, there is no doubt that I will be giving her a call!"
-Evan Hgfssaa
"Brittany was a pleasure to work with as a buyer. During our home search she was able to effectively help us see and learn more about homes even though we lived several hours away from Brevard. Brittany was always very responsive, hard working, and enjoyable to work with."
-MattHooper39
"Brittany Mellott was a pleasure to work with. She went above and beyond to help us see and learn more about homes in the area even though we lived several hours away. Brittany was always very responsive, hard working, and knowledgeable about the area. Highly recommend working with her to find your next home."
-Jennifer Dellacore
"Brittany was professional, proficient while giving solid advice without high pressure sales tactics like I had with a realtor from one of the big corporate companies in Asheville which i ended our sales agreement with! Thank you so much!"
-Jan Carpenter
"Brittany made the process of buying my very first home so much better with her tenacity and knowledge. We toured several homes and she always gave me her honest opinion, would point out potential problems, and NEVER made me feel pressured to hurry up and buy. She understands the process well and did her best and overcame the many bumps we had during the process. I would definitely recommend!"
-Laura Collins
"Brittany was a breath of fresh air! I have had many agents over the many years, but sadly some of them have lost their original sense of respect for the prospective seller. Brittany not only was gracious and helpful, but she put together, in short order, a wonderful presentation for our beautiful land. We had a contract in weeks. Her personal attention to our property was the winner for us!"
-zuser20190511184809427
"Brittany treated us as if we were family members from the first phone call. She quickly learned our wants and needs and was very patient with us throughout several months of searching for the perfect property for our dream home. What makes her amazing is that even though we closed five months ago, she continues to assist us with the land preparation and building process. We would highly recommend Brittany for all your real estate needs!"
-marionandtess
"From the moment we arrived at the Looking Glass Realty office in Connestee Falls unannounced and at closing time, Brittany displayed true professionalism and genuine care for us. She went out of her way to give us a tour and demonstrated tremendous working knowledge of the area. We worked with Brittny for several months and decided to buy some land. Given that we live in another state, Brittany was our local point person and helped us with builders, lawyers, and the closing process. Thank you, Brittany!"
-branca316
"I attribute our successful home purchase to Brittany's prompt movement with the contract, her understanding of the local housing market and her network of connections locally. She has an engaging personality, is honest but tenacious, and knows real estate inside and out. I am certain we will be contacting Briittany again for a buy or sell and we are proud to call her "our realtor"."
-Mark and Jamie Perreault
"Brittany was an invaluable resource throughout the purchase of our new home. She is very knowledgeable about all aspects of the profession and continuously strives for perfection in everything she takes on. One of the things I really appreciate about Brittany is that she doesn't pull punches. She takes her role in the purchase of a new home seriously (as she should), and disagreed (respectfully) when we were misinformed, or heading down a questionable rabbit hole. She is also a great listener and was able to translate things she heard from us and guide decision making. But results are what matter, and she matched my family with the perfect house. I would highly recommend Brittany. She is a consummate professional and is a joy to work with."
-andy2631
"I worked with 2 different realtors from Looking Glass, both were extremely helpful and obliging, we toured a host of properties in western Carolina and they were very accommodating as to times I could look at houses, as well as offering their own thoughts. Once we found a place we liked, they guided us through the process of making an offer, due diligence, arranging inspections, negotiations with the seller, and finally to closing. And even now they are helping me with finding contractors to deal with the minor issues. I am very happy with how this went, a very different experience to my first home buying. Thank you, Kevin and Brittany!"
-David Perrey
"As first time home buyers, my fiance and I were apprehensive, nervous, and admittedly naive about the home buying process. Brittany was able to guide us through a tedious process step by step, helping us to keep in mind things we wouldn't have on our own. When documents were due, we had them in our inbox several days beforehand, and she was available to talk about the purchase after business hours, which was really helpful to us. Brittany always kept us in mind throughout the negotiation process and we feel we made an informed, responsible decision about our biggest investment to date. Thanks again, Brittany!"
-Daniel Woodall
"Brittany Mellott was extremely knowledgeable and friendly. We were most impressed with her assertiveness in the selling process to protect our best interests. Brittany's sensitivity to my family's needs and attention to detail made the process seamless. We are inexperienced in the market and often asked Brittany her opinion when faced with tough decisions. She never steered us wrong! We truly felt taken care of by Brittany and are so thankful to have chosen her as our realtor."
-Jennifer Baughn
"We were living out of state while selling the home of our recently deceased father. In addition to being a very thorough and knowledgeable realtor, going far beyond the call of duty to maintain the beauty of his home, she is a kind and compassionate human being. She treated us with a great deal of care. We highly recommend Brittany Mellott for all of your real estate needs."
-Megan Kilpatrick
"Brittany is a prize! She adds kindness and compassion to her list of home selling skills. Brittany was able to make selling our deceased father's home, from another state, a pleasure. She checked on the empty home regularly, went above and beyond the call of duty, and remained calm throughout the entire experience. I would recommend Brittany to anyone."
-Christian Buckman
"Brittany was wonderful during our process of looking for and buying a home. She paid attention to our needs and wants which actually changed a bit while looking for the right fit. Brittany always answered or got back to me quickly with any questions I had especially during the final process of closing. We would definitely recommend her for real estate needs."
-Angie Robertson
"Purchasing a vacation home should be an exciting and low-stress experience and that is exactly what we had when purchasing our new home in Connestee Falls with the assistance of Ms. Brittany Mellott of Looking Glass Realty. Everything about our experience was perfect. We were totally unfamiliar with the area and Brittany gave us a great education and showed us several homes fitting our parameters. We ultimately decided on one of the homes she showed us and after Brittany helped us with some research we made our offer and after a little back and forth settled on a price and terms. From our first experience on the phone with Brittany, we felt comfortable and our instincts paid off as we are now the owners of our new vacation home and everything about our experience was stress-free and exciting and done to perfection. Thank you, Ms. Brittany Mellott and Looking Glass Realty for making our experience exactly what it should be."
-Gary & Michelle Slatkow
Looking Glass Realty
Listings