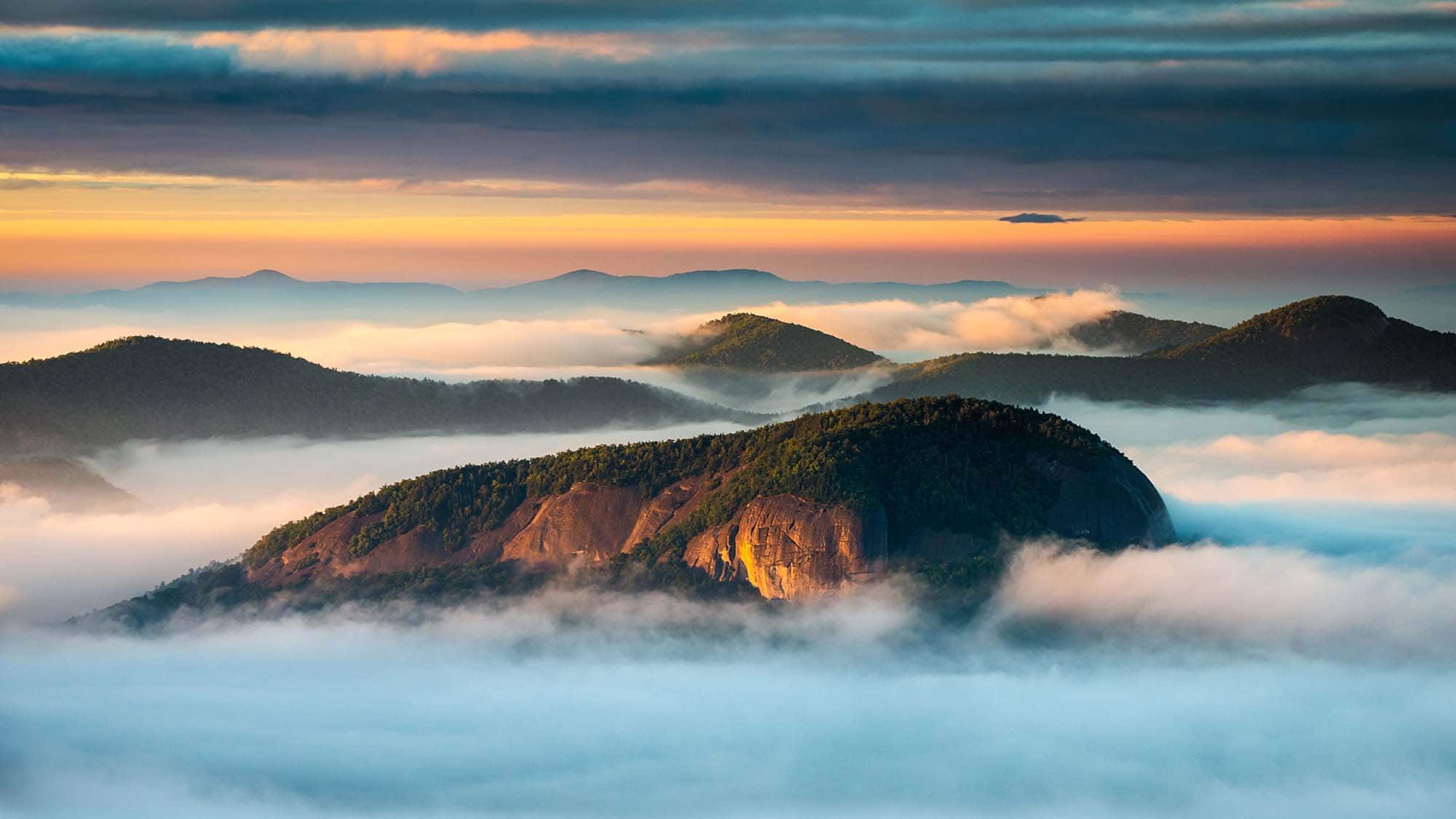 Many moons and pepperoni pizzas ago Katie packed her summer bags, waved goodbye to Flagler Beach and the super nintendo and headed to the mountains to spend summers with her grandparents in Linville Falls. She and her sister spent hours in the woods making forts, playing adventurer, and searching for salamanders in the creeks. They hiked grandfather mountain, danced in the cool grass while bluegrass played and even saw a few performances at the amphitheater at Appalachian State. It was magical, and she knew even then this was home.

But before Katie would call the mountains of Western North Carolina home she played a few years of volleyball in college, putting herself through school working retail, and made it through one Chicago winter and two Cubs seasons before throwing in the towel as a big city girl. She loved Chicago: the architecture and history, the art and music scene, Printers Row, and the food! But a girl needs her open spaces. When Katie moved back to Flagler Beach it was with purpose. So she spent a few weeks thawing out at the beach. Then Katie got to work, devoting almost a decade in education and volunteer work advocating for local food systems and the outdoors for several local nonprofits in her community. She earned an MA in English with a certificate in Copy Editing from the University of North Florida but her real focus was on environmental literature and strengthening local food systems. Katie also solidified an epic love affair with pizza. But no pizza was ever as epic as any summer she spent exploring in the forests of Pisgah and when she started her own family she wanted her girls to grow up in the mountains. Long weekends turned into two-week trips traveling around Western Carolina.

They booked campsites, planned hikes and epic sunset spots, creeping further and further west checking off their bucket list boxes to national and state parks, always leaving room for a big city stop along the way to browse the art and music scene and fill up on the local cuisine. As fate would have it, they returned home from one of their best camping trips cool as cucumbers to a sweltering sticky Florida August. The mosquitos and hurricanes joined forces making their biggest show in years. The dough got tossed, the pizza toppings aligned, a tree fell on their house and the Conley family saw the light... through their roof! It was time for their next and most epic chapter to be continued in the mountains of North Carolina. Katie joined the Looking Glass team ready to work with the same intention and care for her community she spent a decade building in Florida. These days you can find her at one of Connestee's picturesque lakes or chasing waterfalls (against TLC's advice) checking off another box on her bucket list. Her best work days are spent winding around mountain roads, windows down, getting to know the great folks living and loving Brevard and sharing her Favorites List of the best homes and neighborhoods to be found in Transylvania. The adventure is only one steamy box of pizza and a short drive away, so buckle up and let Katie take you there!
"Katie Conley is an excellent realtor who truly cares about her clients. Being from out of town looking for a second home, Katie was so helpful sending listings virtually prior to our visits and would always adjust her schedule to accommodate us on our last minute trips to the area. She patiently showed us numerous homes in multiple communities as our criteria kept changing. Katie is extremely knowledgeable and went out of her way helping us prepare an offer and communicated with us every step of the way. There are just no words to describe how wonderful Katie is-she LOVES her job and she is an excellent realtor! Katie is honest, forthright, thorough, and professional; we highly recommend Katie Conley!"
-Stacey H
"Katie Conley was more than we could have asked for! She assisted us in our first home purchase and was responsive and caring to our questions and needs. She was truly one of a kind."
-Anna Denko
"Katie was amazing to work with! Always responsive to our questions in a timely manner and worked hard to make the entire process seamless. Would definitely recommend her to anyone looking to purchase a home."
-Sheryl Myers
Looking Glass Realty
Listings
Sorry, but we couldn't find any results in the MLS that match the specified search criteria.