Properties for Sale in Saluda, NC
Saluda, NC At A Glance
The town of Saluda, an oasis tucked at the foot of the Blue Ridge Mountains, has maintained a magnetism for those seeking the unique charm of a quaint yet vibrant mountain village for decades. This town lives and breathes Southern hospitality.
Saluda's distinctive history begins with the location of the downtown district, which sits atop the Norfolk Southern Railway's Saluda Grade. You can learn more about the Saluda Grade —  the steepest mainline standard gauge railroad in the country — at the Saluda Historic Depot museum, or embark on your own adventure on one of the many hiking trails surrounding the town. 
With the plentiful restaurants, mom-and-pop shops, and bustling art and music scene, you can always find something to enjoy here.  
With easy access to nearby metropolitan areas such as Hendersonville, NC (12 miles), Greenville, SC (40 miles), and Spartanburg, SC (36 miles), Saluda keeps you connected while maintaining the peaceful small-town feel.
We at Looking Glass Realty are here to help you find a home that aligns with the life you want while keeping your budget in mind. Our Saluda, NC real estate agents are experts in the local community and surrounding areas throughout Henderson and Polk County.
Homes For Sale in Saluda, NC
Whether you are looking for a quaint mountain cabin, an eclectic townhome, a traditional ranch property, or a gorgeous Victorian home, Saluda, NC, has something for everyone!
Looking Glass Realty is dedicated to providing access to the highest quality properties for sale in Saluda, NC. If you can't find what you're looking for please don't hesitate to contact us today!
We look forward to working with you.
Saluda Community & Lifestyle
Where The Foothills End & The Blue Ridge Mountains Begin
Like many western North Carolina towns and cities, Saluda is a hub for outdoor recreation. Located right where the Foothills meet the Blue Ridge Mountains, and only 20 minutes from the Green River Game Lands, Saluda has much to offer wilderness enthusiasts of all ages and adventuring abilities.
Take a walking tour of the land, hike a trail for picturesque views, head down to Saluda Outfitters to rent a road or mountain bike, or visit the Green River Gorge for swimming, fishing, camping, zip lining, and other whitewater adventures. 
Local Amenities
Hiking/Walking Trails

Tryon Equestrian Center

Campsites

Mountain Biking/Cycling

Local Art Galleries

Historic Train Museum

Local Restaurants
Location & Details
Saluda Homes Price Range: $370,000-$3,000,000 (January-October 2022)

Saluda Size: 1.6 Square Miles/ 650 - 770 Residents
Saluda, NC Information
Average price per square foot: $291
Common styles: Mountain Homes, Townhomes, Victorian Homes, Traditional Southern Homes
Distances & Drive Times
Hendersonville — 12mi (20 min)

Green River Game Lands — 9mi (21 min)

Asheville Regional Airport — 25mi (23 min)

Greenville-Spartanburg Int'l Airport — 46mi (43 min)

Asheville — 35mi (44 min)

Brevard — 30mi (46 min)

Waynesville — 55mi (1 hr)

Charlotte-Douglas Int'l Airport — 87mi (1.5 hr)

Hartsfield-Jackson ATL Int'l Airport — 193mi (3.25 hr)
National Historic District 
Recognized as a National Historic District, Saluda's downtown continues to attract those looking for a peaceful lifestyle reminiscent of America's past. 
Although it has grown and modernized a bit over the years, its single main street and vintage buildings, which have been converted into general stores, artisan shops, art galleries, and eateries, downtown Saluda still has that nostalgic feel of the original rustic mountain town founded in 1881.
Authentic Small-Town Charm
The world tends to slow down a bit within the town limits of Saluda, NC. Feel your stress melt away as you stroll along tree-lined streets and take in the lovely Victorian architecture, or browse the unique shops, art galleries, and restaurants on historic Main Street.
Home to many artisans and craftspeople with work housed in the Heartwood Contemporary Crafts Gallery, mom-and-pop shops like Thomson's Store and Wildflour Bakery, and gathering places to enjoy food, drink, and live music such as the Purple Onion, you will be feeling the comfort of Saluda in no time.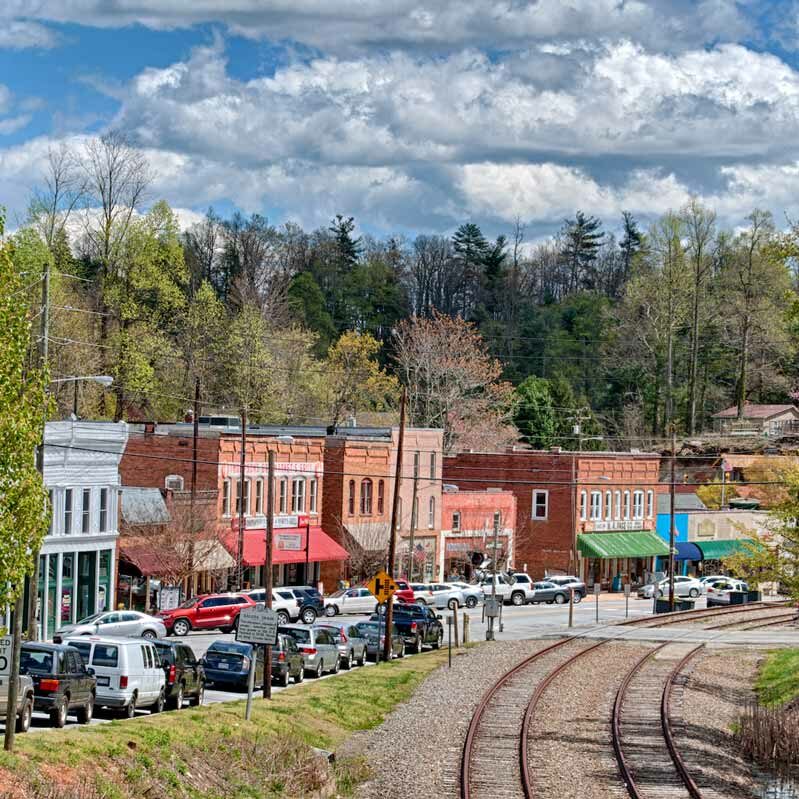 Festivals & Community Events
Who doesn't love a small-town festival? The residents of Saluda sure know how to bring the community together with many quirky events that cover a variety of interests and hobbies.
For music lovers, there's the Top Of The Grand Summer Concert Series, which is free and open to the public. This festival takes place at the Ella Grace Mintz Stage in McCreery Park, in downtown Saluda. 
Or, if you're looking for a fun and quirky street fair complete with art and food vendors, a parade, and a dog judging contest, you won't want to miss the Annual Coon Dog Festival. Bring your dog to this celebration of the loyal pet and hunting companion, known for its unique bark and amazing sense of smell. 
Begin Your Adventure
Begin your adventure by browsing the community pages on our website or call Looking Glass Realty today at (828) 883-HOME (4663) to request a tour or open house information.
Saluda, NC Properties for Sale