Welcome To
Lake View Park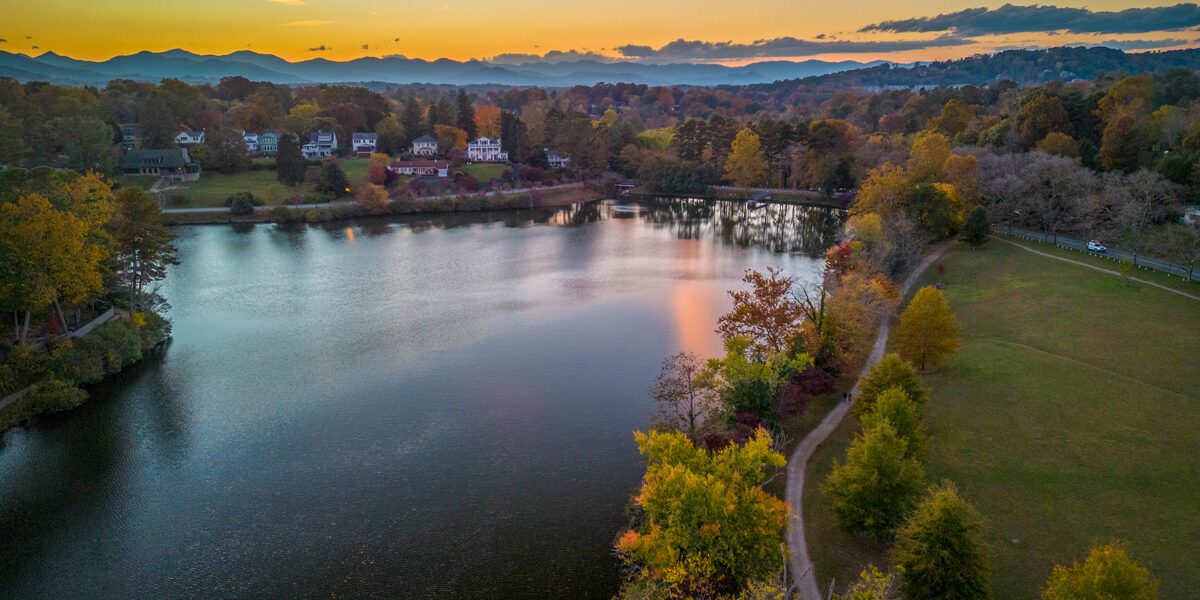 Serene lakeside living located just minutes from downtown Asheville.
In the early 1900's, the area now known as Beaver Lake was a quiet meadow populated by grazing livestock. A trolley system conveyed vacationers through the area to Weaverville until 1923 when renowned urban planner and landscape architect John Nolen designed the neighborhood and the recreational lake.

Nolen's style was characterized by a desire to balance two transcendental ideals: civic virtue and nature. To this day, Lake View Park remains a beautiful legacy of this vision; even as the city continues to evolve and grow, the lake community remains an idyllic wildlife oasis located in the heart of North Asheville, only four miles from downtown.

Homeowners in this desirable Beaver Lake neighborhood enjoy running, walking, biking, bird watching, boating, and fishing in the park and on the lake, which are privately owned by residents of the neighborhood. A 1.9 mile scenic walking trail winds around the perimeter of the lake. The community is also home to a 10 acre wildlife sanctuary that provides resting, feeding, and nesting spots for resident and migratory birds. Both the sanctuary and the lake are open to the public (though guests are required to get permits for dog walking, fishing and boating).

There are 516 properties in this community, many of which feature picturesque views of beautiful Beaver Lake. The area is known for eclectic architecture predominated by mid-century modern styles with a variety of bungalows and historic homes situated between. When it comes to NC Real Estate, it's hard to find a more appealing environment. Properties are wooded with mature trees and there's a gentle sloping quality to the landscape that adds to the neighborhood's elegance.

To live in Lake View Park is to enjoy a rare opportunity to balance an appreciation for natural ecosystems with a love of city life. Contact your Asheville real estate agent today to learn more about the highly desirable lakeview community.
Amenities:
Country Club of Asheville: Donald Ross designed golf course, fitness & aquatics centers, indoor/outdoor tennis, and upscale dining with panoramic views

Beaver Park

Walking Paths

Picnic Spots

Beaver Lake: fishing, (non-motorized) boating, canoeing, kayaking, and paddle boarding

Beaver Lake Bird Sanctuary: nature preserve, handicap accessible boardwalk, gathering space, and lake overlook
Community Location
15 minutes from Mission Hospital
15 minutes from Downtown Asheville
30 minutes from Asheville Regional Airport
40 minutes from Hendersonville
50 minutes from Brevard
Lake View Park Community Details
Lake View Park City: Asheville, NC
Lake View Park Information
Lake View Park Homes for Sale