For some people, summertime means family vacations or a trip to the beach. For me, and other foodies, the summer months are when we can flex our cooking muscle with the freshest fruits and vegetables of the year.
I'm not talking about tomatoes that were grown in California and shipped in or green beans that have been transplanted from Ohio. I'm talking about vegetables with local roots that are so fresh you have to brush the warm soil off them. It may sound strange to anyone who has only known life in a big city where "fresh" probably means anything picked in the last 2 months, but there is a world of difference between a potato straight out of the field and the potato you find in your local grocery store. And don't get me started on tomatoes. I feel a little sorry for anyone who has only known tomatoes from a grocery store.
As a child, being the product of a southern upbringing, summer was the time of year when beefsteak tomatoes and juicy cantaloupe shared our breakfast plates with the salty country ham, homemade biscuits, and fried eggs. Come supper time, it wasn't unusual for us to have a meatless meal of pinto beans, turnip greens, fried okra, a wilted salad, and a tall glass of iced tea. For anyone who grew up north of the Virginia line, a wilted salad is bibb lettuce and green onions picked fresh, topped with bacon, and then drizzled with warm bacon grease. I know, I know. But these were the days when kids played outside every night until the street lights came on or your mom called you in to eat. Worrying about what all that bacon might be doing to your arteries wasn't on our radar. It was just the food my southern family was raised on. Even today I can't imagine summer squash without onions and bacon.
My grandparents in Louisiana were part of that self-sufficient generation that always had a garden. It was in my grandmother's kitchen where I first learned to appreciate summer vegetables. Whatever wasn't eaten during the growing season was put up for the winter months. Everyone had a pantry lined with jars of green beans, corn, chow chow, tomatoes, squash, and black-eyed peas, ready to enjoy when the warm days of summer were long gone. It was what you had to do to keep food on the table. Even though both of my parents worked outside the home when I was growing up, and grocery stores were plentiful, they also managed to have something growing in our back yard. Ideally, I'd have my own little back yard garden to satisfy my cravings for fresh vegetables this time of year. Ideally, I would have inherited not just the knowledge of how to grow things, but how to can them for the months ahead. Sadly, I have neither so for the time being, I rely on local growers who do know how to do those things. Lucky for me, I live in an area where this time of year I can find just about any fresh vegetable I can think of.
The Transylvania Farmers Market in downtown Brevard is a great place to start if you're looking for fresh vegetables, fresh eggs, locally grown beef, jams and jellies made with local berries, and a whole lot more. Most weekends, there's live music to enjoy while you fill your basket with all these goodies. To me, it's the perfect way to spend a cool Saturday morning.
Just east of us is another one of my favorites spots. McCalls Farm is a family farm located in Penrose, about an 8-minute drive east of Brevard. Going to McCalls is more than a stop for great farm to table food, it's the total experience. The last time we were there, there was a boy about 10 years old driving the tractor in from the field all loaded down with the best corn you'll ever eat. I never buy corn in the grocery store. Why bother. It's nothing like fresh-picked corn. While you're there you can pick up a mess of green beans, tomatoes, peppers and other farm-fresh food for your family. McCalls is old school and doesn't have a website, but you can find them on Crab Creek road, just off Highway 64. Or you can call them at 828-884-4054. Corn season started today, July 14 and will only run for a couple of months so get there and get you some while you still can.
For the motherload of a farmers market, head to Asheville for the WNC Farmers Market. It's part of the NC Department of Agriculture. This is the same spot where local restaurants come to fill their own pantries and stock up local produce for their daily specials. It's an amazing experience and you'll want to take your time. It's 38,000 square feet and filled with certified farmers who sell direct to consumers. It's a scenic spot with easy access and it's open year-round.
I envy people who have the time, energy, and knowledge to grow things. In Transylvania County, it seems more people have some kind of garden than don't. I keep saying "someday" and when that day comes I will happily pick my own homegrown tomatoes, have green peppers at hand, and enjoy tender baby squash. And yes, now and then I will indulge my past with a wilted salad. Until that day comes, you'll find me at the farmers market as often as possible.
Additional Articles
From Looking Glass Agents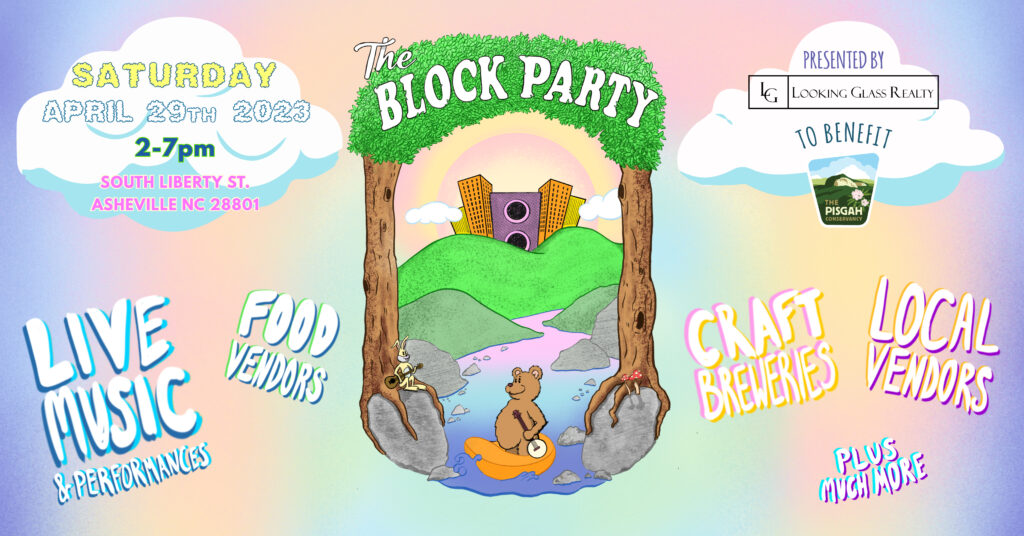 The Second Annual Block Party will be held on Saturday, April 29th from 2:00 – 7:00 PM on South Liberty…